Environment´s information
The Natural Park of the Canyon of the river Lobos is, without hesitate, the main closest touristic destine, walking from the Bridge of the Seven Eyes, or going down by car by the Slope of La Galiana. And once in Ucero, where there is the Informative Room of the Park, is tempting as well travelling 15 km more to the South to see the Historic-Artistic Complex of Burgo de Osma which has a good gastronomy and parks as well. The pine surrounding of San Leonardo is full of paths to the walkers in the different villages of the surroundings, with wonderful settings. There is traditional architecture to highlight in Talveila which also has an ethnographic museum. Between Vadillo and Casarejos the cows and the horses gaze in a very pastoral picture. There is a dazzled arcade gallery in Arganza and a Romanesque façade in a hermitage of Santa María de las Hoyas. A rustic bridge saves the river Ucero in Quintanar de la Sierra, where there are also bickering dances like in San Leonardo, Casarejos and Navas del Pinar.
San Leonardo de Yagüe
Typical pine village in the heart of the pine region. Among its countless artworks, the castle of the XVI century highlights, unique in the "traza abaluartada", and the parish church with a blacksmith style. Medieval wakes in the schoolyard and high school. The village has many hotel services, health center, swimming pools, etc. It is surrounded by pines with many ideal landscapes, some picnics and some fountains. Pine forest which provides mushrooms in autumn. Two traditions highlight: the stick dance inside the parish of San Blas and the Candelas, and the rise of the May (pine). Arganza is close, with a with blind Romanesque portico where you can see part of their capitals. San Leonardo belongs to the Natural Park river Lobos.
Tours
The village is surrounded by pines, places with founts, picnic areas and barbecues inside the pine forest (we provide the documents about the area) and many playground parks.

The place of touristic interest that you can visit are: The Canyon River Lobos (2 km), Black Lagoon, Peaks of Urbión (source of the River Duero), El Burgo de Osma, Calatañazor, remains of Numancia, Santo Domingo de Silos, La Yecla, Lagoons of Neila…
Activities
Hiking. Horse riding. Quads. Visits to green areas. Collecting mushrooms. Fishing and Hunting.
WHERE TO GO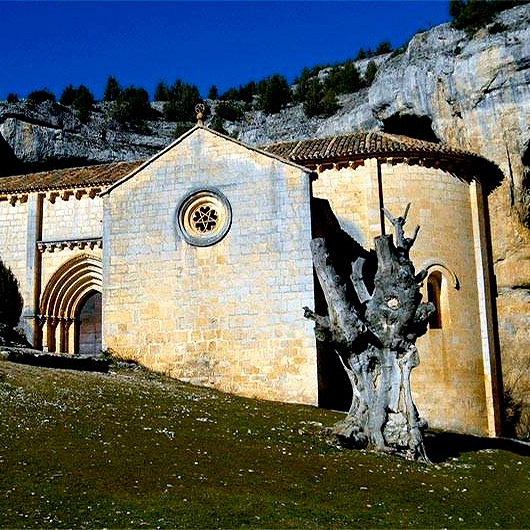 Cañón del Río Lobos
Eje del Parque Natural del río Lobos donde los buitres leonados son los reyes del aire. La Casa del Parque, en Ucero, y en enclave de la ermita templaria de San Bartolo y la Cueva Grande son carismáti...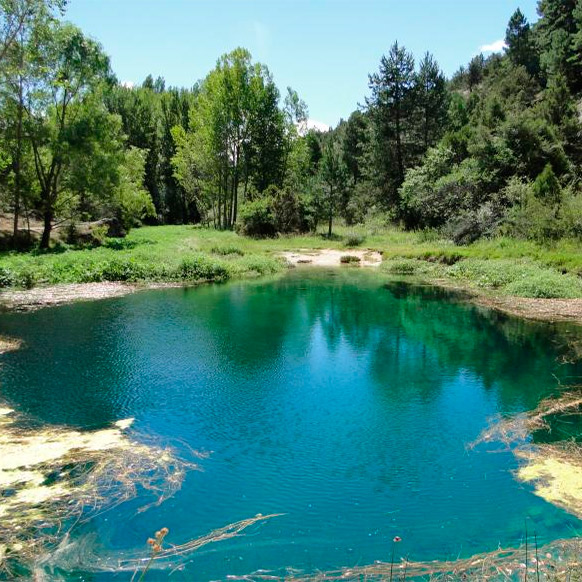 Monumento Natural La Fuentona
Al final de la Hoz del Abión se encuentra su nacedero de La Fuentona vigilado por los buitres y otras rapaces, rodeado de sabinas y algún pino y encina. Es Monumento Natural y no se puede bañar en ell...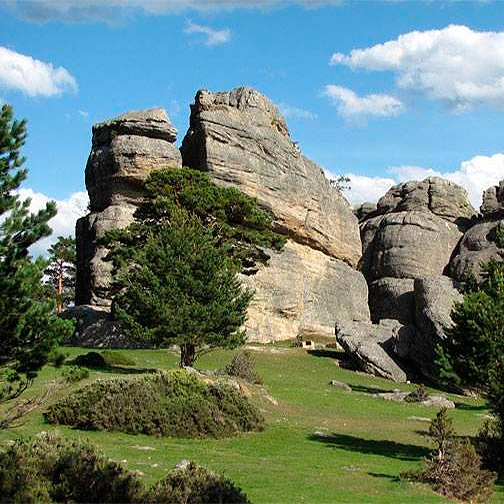 Castroviejo
Entre Duruelo de la Sierra y los Picos de Urbión donde nace el Duero se encuentra el paraje rocoso de Castroviejo, la Ciudad Encantada soriana que recuerda a la de Cuenca. Las vistas pinariegas desde ...
UPCOMING EVENTS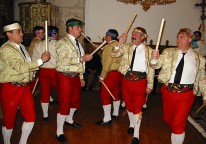 San Ildefonso
En Casarejos, del 23 al 24 de enero
En Casarejos se festeja a San Ildefonso con unas danzas de paloteo en el interior de la parroquia, vistiendo los danzantes con trajes goyescos. Es común en varios pueblos del antiguo marquesado de San...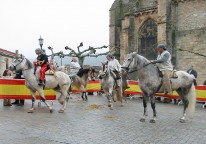 Fiesta de los Jefes
En Santo Domingo de Silos, 28 de enero
En el último sábado de enero. Escenificación de la hazaña de los silenses contra el ataque de los árabes. Cencerradas, pasacalles,"las crestas", carrera de jinetes de San Anton, carrerillas de los chi...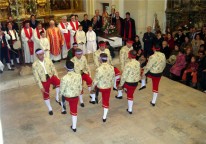 Las Candelas y San Blas
En San Leonardo de Yagüe, del 2 al 3 de febrero
Se celebran los días 2 y 3 de febrero, son una auténtica rememoración de ritos y danzas celtibéricas, que representan las raíces profundas del pueblo. Lo más peculiar de estos días son las danzas de p...